Short text:
Premium retail products for export
Long text:
While our traditional market has been the UK & Ireland we also have partners across the globe and are actively seeking new partners.
In addition to our standard retail composts, which are all available for export, we have developed a premium potting mix specifically for our global partners.
Bulrush All-Purpose Potting Mix provides the optimum balance of air and water using our unique wood-fibre product, Forest Gold, ensuring healthy root growth. Ideal for use all around the garden.
Available in 20L, 40L and 80L bags.
Product information sheet: Bulrush Potting Mix Product Sheet.pdf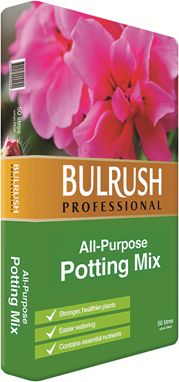 Subject to volume, we can also provide bespoke packaging in a language of your choosing and have the capability to make almost any sized bag to almost any specification.
As part of one of the largest suppliers in the world you can be assured of our ability to supply.
For more information please contact Alex Julien: alj@bulrush.co.uk